Join Automotive "experts" Roger Kwapich, Dan Pietras and Steve Stewart every week for your chance to get some easy to understand, inside tips as to what may be ailing your vehicle….and so much more!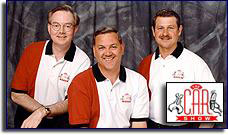 Whether you're able to work on your own vehicle, or you take it to the dealership or independent technician of your choice, by listening to The C.A.R. Show ® you'll have a better understanding of how your vehicle operates, how to keep it running better, longer, and if you have a problem they can help you find the solution. And, you'll have some fun along the way!
But that's not all. You'll also hear about new products, get "practical new-car reviews", and learn from some of the industry's leaders about the latest and greatest in the automotive industry.
Questions about your car? You can call every Saturday between 10am and 12pm (EDT) at 1-800-859-0957.